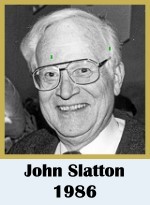 John Slatton
ABA Broadcaster of the Year 1986 John Slatton began his career in broadcasting as an announcer at WMSD, Muscle Shoals, (now WLAY), in 1940. He later moved to WBHP Huntsville, WMSL Decatur and thence into the Armed Forces where he served with the 41st Cavalry, 3rd Army in the European Theater. In 1975, Slatton was summoned to Austria by the Austrian Government and the U. S. State Department to be honored at a celebration commemorating the liberation of Concentration Camp Mauthausen by Slatton and 122 fellow cavalrymen. In 1981 Slatton was honored again for his part in the liberation of Concentration Camp Mauthausen by the United States Holocaust Memorial Council at a special International Liberators Conference held in Washington, DC. After serving in Europe, Slatton returned to the U.S. to serve with the 1st Army Public Relations, Governors Island, New York.

On being separated from service, John served a brief stint with ABC in New York, then WFNC in Fayetteville, North Carolina, and back home to Alabama and WJLD in Bessemer. Then came the Korean Conflict. Slatton was recalled and served as the Division Ammunition Officer of the 45th Infantry Division in Korea. He was decorated with the Bronze Star. He returned to the states, worked briefly with WRBL in Columbus, GA back to Birmingham with WJLD and then in 1953 moved to Haleyville, AL buying into WJBB. In the ensuing time, Slatton has purchased all of WHBB and was a principle owner in WTRO AM & FM, Dyersburg, TN, WMSL in Decatur, AL and WLAY AM & FM in Muscle Shoals, AL. At the present time John is the principle owner of the Haleyville Broadcasting Corporation, Inc. John also obtained the franchise for development of Haleyville TV Cable system which he sold in the mid 80's.

Industry and Civic Service or Honors
· Alabama Broadcaster of the Year 1986
· President Haleyville Junior Chamber of Commerce,
· President Lions Club
· President Chamber of Commerce (Twice)
· President Northwest Alabama Mental Health Board (3 terms )
· President of 11th Armored Division Association (a national office)
· Leader in developing the Haleyville Municipal Airport
· Secretary-Treasurer of the Haleyville Airport Board

John L. Slatton was born in McMinnville, TN in 1923 and was raised in the TN Valley area, living in Florence and Sheffield, AL. John is married to the former Pat Smith of Dickson, TN. They have three children, Sharon Hayes, Terry Slatton, and Debby Slatton Aderholt all of Haleyville, AL. All three children are active in the broadcasting business together. John and Pat have 10 grandchildren and 19 great grandchildren.